Omni
Turn
CNC Lathes
Made in Oregon
The World's Most Cost-Effective Turning Machines
OmniTurn Factory Floor
---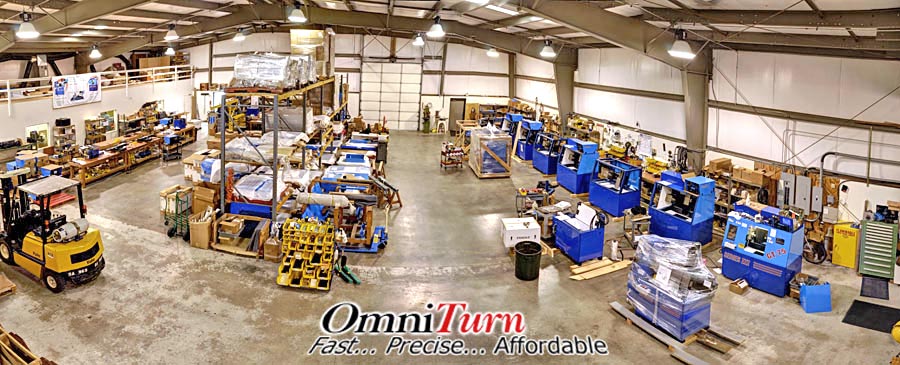 ---
About OmniTurn
OmniTurn is a small CNC lathe builder located in Oregon. We have made fast and precise turning available to thousands of shops across the country at an affordable price for over thirty years.

OmniTurn lathes are fast because we write our own operating system in DOS. OmniTurn lathes are precise because we use linear guides and ball screws from NSK® and Rexroth®, and because we use thermally stress-relieved MIC6 castings for base and saddle.

Give us a call to discuss your special application. We have integrated automatic gaging and vision systems with our software, as well as robotic interfaces and remote control panel applications.

Ask us about automatic loading and unloading of your parts. We have developed automatic loaders for shops that are running parts as small as 0.065" diameter. And we've designed special loaders to work both ends of headed fastners.

Reach out to us if your OmniTurn needs service, or if you're looking at a used one. We continue to support the oldest OmniTurns, and we will work with you one-on-one to get your machine up and running properly.
OmniTurn is the name for CNC lathe products manufactured since 1987, originally to convert manual Hardinge® style chuckers to full blown CNC machines capable of high tolerance, high speed turning at an extremely affordable price. Thousands of these attachments have been sold throughout the world over the years, and have made many small shops as well as large corporations very competitive in the world market.

This product has been refined over time with more capability and remains in production today.

The attachment evolved into the development of the GT series of complete turning centers offering combination turning and milling capability and various kinds of automation.

These machines are found in virtually every industry such as aerospace, medical, appliance, jewelry, hydraulic, pneumatic, and fastener to name a few.

The Omniturn products continue to be the lowest cost, best supported, small turning equipment available in the world today, equalling or exceeding the capabilities of much more expensive equipment.
---